Greer Family News July 1, 2013: Allen Graduates from High School
Our Third Child Graduates from IB
We just celebrated Allen's graduation from the International Baccalaureate program at Britannia Secondary. Like Jocelyn and Kevin before him, he successfully completed the IB diploma program. In addition, Allen won an Academic Shield, which is only given to students who complete twelve or thirteen semesters on the honor role between Grade 8 and Grade 12. Also like Jocelyn and Kevin, Allen won the Senior Athlete of the Year Award. Congratulations to Allen on an amazing year.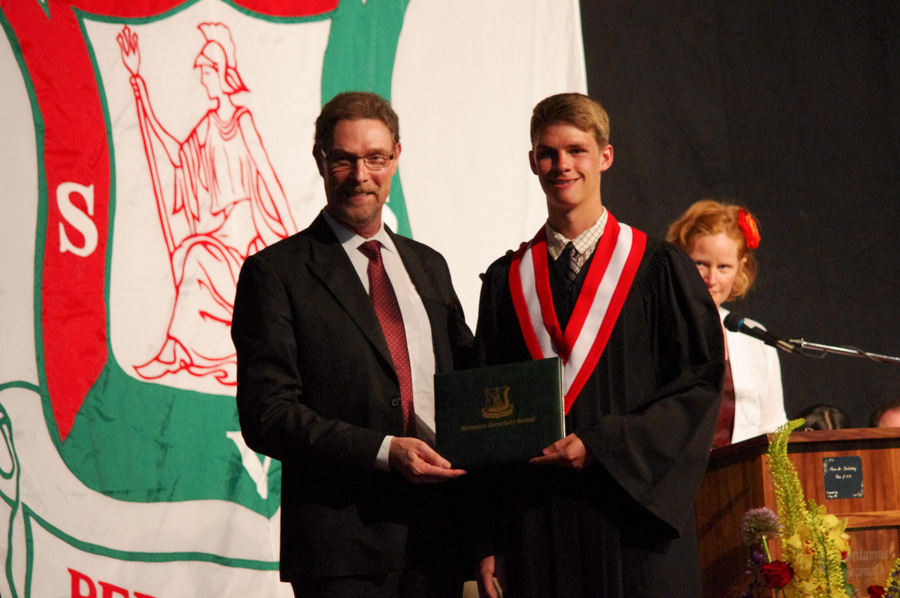 Allen Receives His Diploma from Mr. Taylor, Principal
Allen has been accepted at the University of British Columbia in a dual major program. In Commerce (at the Sauder School of Business), he will major in business systems. In Science, he will major in Computer Science. Allen has also made the BC U19 Ultimate Frisbee Team and plans to play in the Canadian National Junior Championships in August.
Kevin Keeps Playing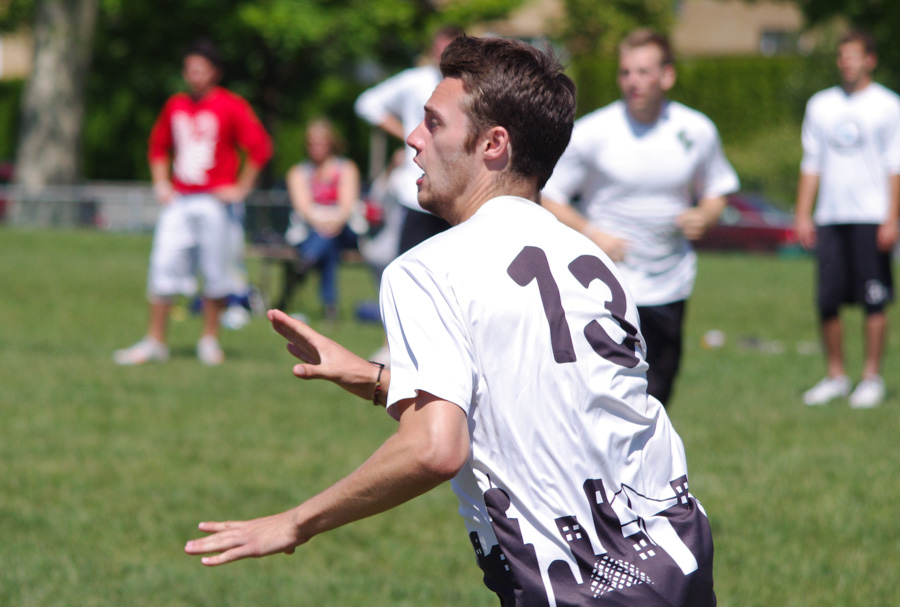 Kevin Playing with Team Canada
After a successful eight-month co-op position with the British Columbia Automobile Association, he returned to UBC to complete his third term in his dual major Commerce and Computer Science program. Kevin was again a co-captain of the UBC Ultimate Frisbee team, which made it to US Western Region finals. Kevin has been selected to the U23 Team Canada team and will be playing at the U23 World Championships in Toronto this July.
Jocelyn and Daniel Are Amazing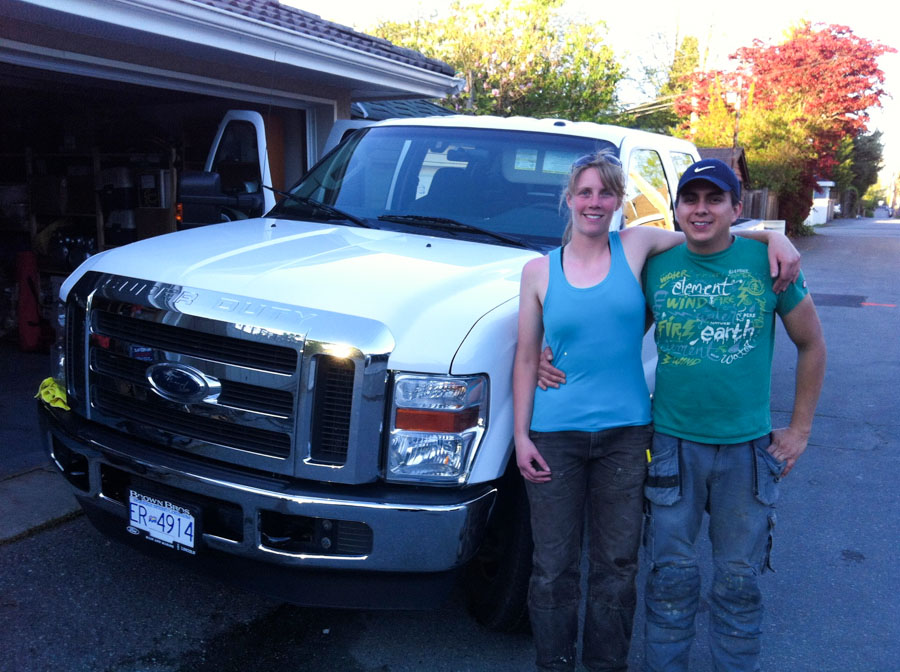 Jocelyn, Daniel, and Their White Truck
Jocelyn and her boyfriend Daniel have been doing amazing things. They continue to expand their landscaping and contracting business. They often show up on the weekend to wash their Ford F350 crew cab truck, which is as long as our garage is wide. They are building their business in their spare time and are getting to their busiest time of the year. If you live in the Lower Mainland and want to have them look at your yard, just let us know.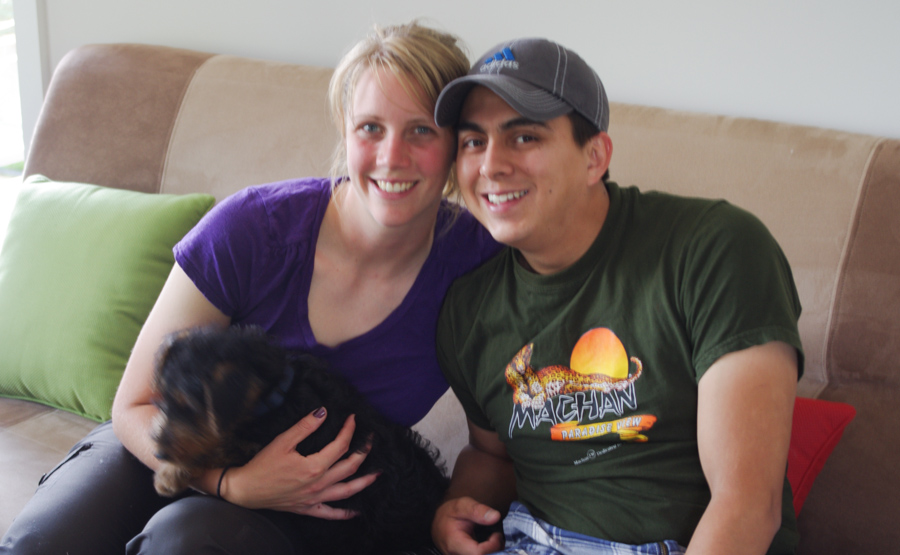 Jocelyn, Bruno, and Daniel in their new Condominium
In March, Jocelyn and Daniel purchased their own condominium in North Vancouver. After months of looking at condominiums they got an excellent deal on a brand new unit. Now that they have their own place, Daniel got an Airedale puppy that he has named Bruno. Because they both work all day, Bruno often spends the day at our place, invading the territory of our two dogs Tammy and Meeka.
Karalee Looks After Us All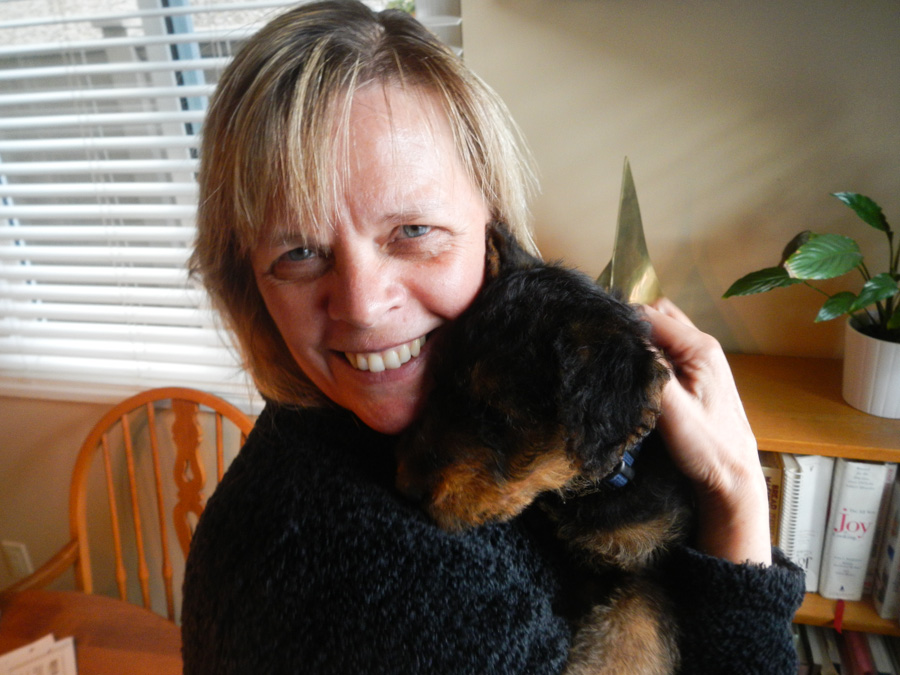 Karalee Holds Bruno
Bruno is a rambunctious puppy who tests Karalee's patience, but fortunately she loves Bruno and puts up with his puppy antics. In addition to looking after Bruno, David, and Allen, Karalee finished her third novel. She also read and critiqued the four novels that her fellow writing group members wrote as part of their 5 Writers 5 Novels 5 Months project. You can read all about the process on the blog the five of them write.
Milestones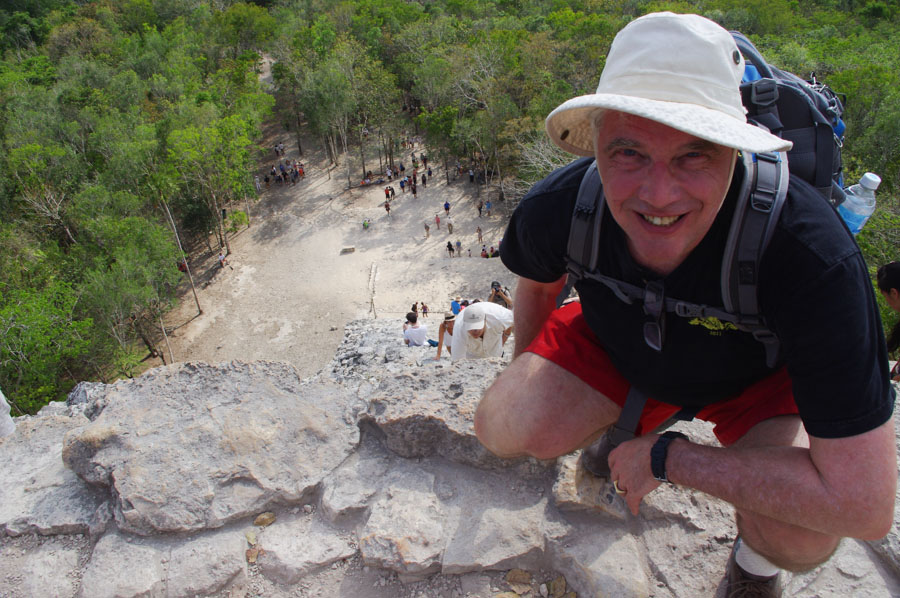 David Showing the Steepness of the Pyramid at Coba
We continue to have a lot to be thankful for in our lives. In March, Allen, Karalee, and David traveled to Cancun, Mexico for our last ever high school Spring Break. We were ready for a break and mixed up days on the beach with adventures like sailing, zip lining, canoeing, rappelling over one hundred feet (thirty meters) into an underground lake, and climbing the ancient ruins at Coba. It was our first time in the region and David took lots of photos.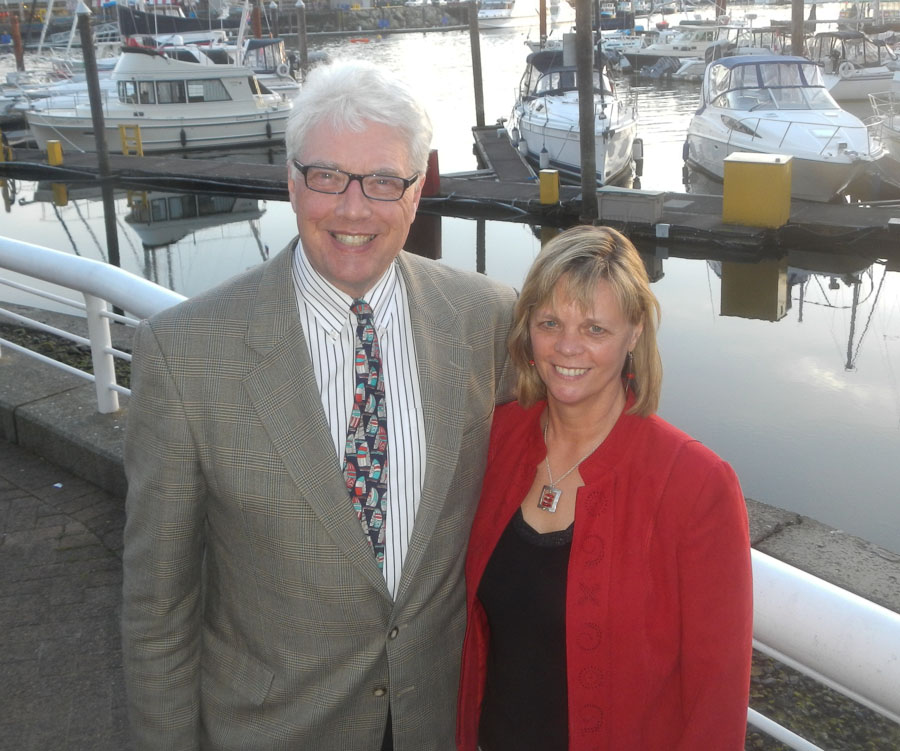 David and Karalee at Sunset Next to False Creek
With all that is going on in our life, David and Karalee made sure to take a pause to celebrate their 31st wedding anniversary. We first dated while attending the University of British Columbia and it is great to see the circle coming around with Jocelyn already graduated from UBC with both Kevin and Allen going to school there. We recently toured the campus to see it as our children experience it today. There have been many changes since we were there and many things that remain the same.
Summer is kicking off in a big way here in Vancouver with hot and dry weather greeting us this Canada Day long weekend. We have much to celebrate and much to look forward to.